Swimsuit season is upon us, friends. Try not to hyperventilate into a paper bag, as some insecure, writer types have been known to do. Try not to think about when you used to make derisive comments about your body before you had children, only to discover later the sheer relativity of "big thighs" or "love handles." Instead, feel victorious that you aren't headed out to your local swimming pool in this: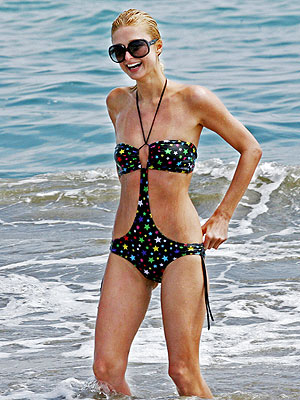 Do you know there is a name for this thing? It is called a MONOKINI. Mono, from the Latin of "one," and "kini" from the Polynesian for "not enough to cover the groceries." This style, I feel, is a danger to public swimming holes everywhere. Think of the therapy bills racked up by unsuspecting passersby. What happens when a girl needs to get out of a model's pose to, say, pick up a child? Sit poolside? Eat a snowcone? NOTHING GOOD, I assure you.
I, for one, will embrace my tankini with joy this summer. Tank, from the Latin for "large swath of military-like material" and "kini" from the Polynesian for "less six-pack, more milkshake." Get out there, girls, and be thankful your kini is just what it's meant to be.